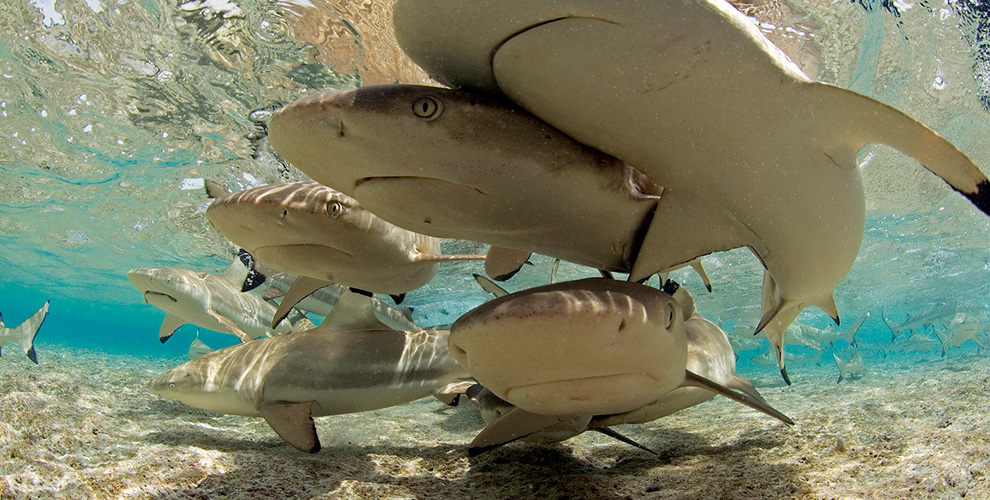 Photo credit: National Geographic
---
World Oceans Day
Is the North-west Atlantic the most overfished area on the planet?
June 2015
Despite more than 20 years of a cod fishing "Moratorium" many fisheries and fishing communities located near eastern Canada's Continental Shelf continue to struggle with dwindling fish catches. Commercial groundfish stocks (species) such as cod, haddock, white hake, flounder and redfish show little if any signs of recovery while local governments tout pending recovery and sustainability. The absence of significant or measurable fisheries recovery remains a mystery to some, a starting point for heated debate among others, and a forum for denial among decision makers.
However upon closer examination several points become clear. There are very few Marine Protected Areas (MPAs) on eastern Canada's Continental Shelf, and all of them are quite small. This contrasts significantly with our neighbours to the south and north. The United States have set aside more than 1.5 million square miles globally for marine protection and are experiencing very positive outcomes from their MPAs off Massachusetts and Maine. Similarly, in the North Atlantic, countries such as Iceland, Denmark, Norway and Russia, all have seen their fisheries recover, due to establishing large closed areas (Norway and Russia have closed over 1million square kilometres between them) as well as placing tight restrictions on over-fishing and other destructive practices.
Unfortunately, despite the efforts of many groups and individuals, Canada has not moved in this direction. In addition to having very few and small closed areas, the Canadian government still permits fishing for ground fish during spawning season using bottom trawls. For decades (dating back to the late 1940s) there has been much public outcry against such destructive and wasteful fishing practices. However powerful corporate interest groups have been able to persuade decision makers from taking appropriate actions to rectify the situation. Similarly since all this damage was happening on the ocean floor and ultimately out of sight it was difficult to garner concerted, widespread, public support.
In 1991 just a year before the cod collapse in the Northwest Atlantic the Canadian Department of Fisheries and Oceans released a study on the effects of bottom contact fisheries on the Continental Shelf off Eastern Canada. The Report: "The effects of trawling, dredging, and ocean dumping on the eastern Canadian Continental Shelf," Continental Shelf Research
Volume 11, August- October, 1991. The report received little if any attention and was quietly filed away. Wider knowledge of its existence in Canada remained out of view until 2010 when it came to light when the Royal Society of Canada commissioned a review of Canada's marine policies. The report researched and documented the actual contact time of all Canadian bottom contact fishing gear with the ocean floor for one year. The time was then calculated in terms of distance. The distance calculated amounted to 4,300,000 kilometres in one year. For some familiar with the operations and dynamics deep-sea bottom contact fisheries this comes as a confirmation of what has been occurring for decades. For others it may come as a shock.
However the practice of recording "hours fished" information is not new. The International Commission for North Atlantic Fisheries(ICNAF) which functioned as the umbrella fisheries manager from for the North-west Atlantic from 1949 to 1977 collected similar data dating back to its origin in the late 1940s - early 1950s. Unfortunately the data collection of this information was sporadic and inconsistent depending on the level of participation from the members of the organization. However in1952 documented bottom contact from 331 otter trawlers – steam or diesel powered ocean-going ships, which tow large nets across the ocean floor held open by heavy steel or wooden doors - amounted to 186,401 hours. Assuming that otter trawlers tow at a speed of 4 nautical miles or 7.4 kilometres an hour, the combined otter trawl fleet towed their bottom contact gear 1,397,367.4 kilometres in 1952, - 63 years ago.
This process of industrial fishing (or later industrial overfishing) continued and expanded rapidly from the 1950s onward resulting in an estimated 1000+ otter trawlers fishing year round in the North-west Atlantic for several decades. A very conservative estimate of kilometres travelled during this time period would place it at well over 100,000,000 kilometres of ocean floor contact with the eastern Canadian Continental Shelf.
Bottom trawling continues on the ocean floor of the eastern Canadian Continental Shelf. Initially, until 1964, this type of fishing could be conducted up to three miles from land. That changed in 1964 with the introduction of the 12 Mile territorial limit, which restricted large otter trawlers greater than 20 metres to areas outside this zone. This was followed by The Law of the Sea Convention with countries establishing 200 mile Economic Zones in the 1970s. The successor to ICNAF was the Northwest Atlantic Fisheries Organization (NAFO). Fortunately it maintained the practice of collecting "Hours Fished" data on otter trawl bottom contact fishing.
More recently another collapse of the cod stocks in 1992 forced the Canadian Government to introduce a "moratorium" on fishing cod. Unfortunately a moratorium or tighter controls on otter trawling or other types of destructive ocean floor contact fishing practices was not included.
However, commencing in 2004 NAFO began closing areas in NAFO Zone 3M located on the Flemish Cap, a somewhat shallow water area located approximately 300 kilometres east of Newfoundland. Not surprising the closed areas have resulted in increased catches of ground fish in the area.
Unfortunately Canada has been very slow to take remedial action to address the over-fishing brought on by ongoing and ultimately excessive bottom trawling. To date the Canadian Government has taken few steps to protect ocean habitat on the Eastern Canadian Continental Shelf. Less than one percent of the shelf has protection as closed areas while the large, decades over-fished areas, remain open to bottom trawling from the numerous shrimp and ground fish trawlers and scallop draggers operating in the region.
It all combines to stand out as one of the most overfished areas on the planet.
Contact Information:
Fred Winsor PhD. North-West Atlantic Fisheries History
St. John's, Newfoundland
 
Conservation Chair
Sierra Club Canada
Atlantic Chapter